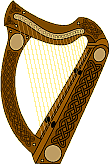 The Pride of Erin is a non-profit organization dedicated to the promotion of Irish Culture, specializing in teaching and demonstrating céili (Irish Folk) dancing. We are one of the oldest Irish dance organizations in San Diego.
Come join us for our Wednesday night céili in Balboa Park.
Upcoming Events and Performances
Sunday, February 11 at 2:00 p.m. - Pride of Erin will be performing in the International Dance Festival in the Balboa Park Club
Saturday, March 17 at 10:30 a.m. - Pride of Erin will be marching in the St. Patrick's Day Parade.
Sunday, March 18 at 2:00 p.m. - Pride of Erin will be performing in the House of Ireland Lawn Program